2019 Kustom Kemps Of America Show
38th Anniversary ...LEADSLED SPECTACULAR... July 25-26-27-28, 2019
Event Description:
America's Traditional Hotrodding Playground! 
Show & Shine @ Beautiful 26 acre Oakdale Park, 1/8th mile Drags @ E. Crawford Park, Hang-out with 1,000's of Ol' Skool Kustoms, Hotrods & Drag Machines, Watch a
Drag Machines, Watch a Top-Chopped by Famous Kustom & Hotrod Builders, Top 25 Picks, Backyard Garage,
(2) $1,000 - Pin-Up & Lookers Beauty Contest's, Vintage Bicycle Spoke-tacular, Hollywood Movie & TV Stars, Swappers, $500 Model Car & Truck Spectacular, Over $5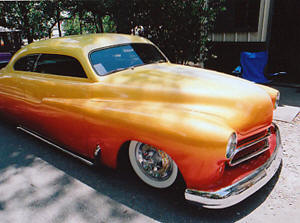 ,000-n-Cash Awards, Coveted "777 Custom Crown Award & $1,000" for America' Top Kustom,  KKOA Hall of Fame Picks, Pin Striping "Panel Jam & Auction, Vintage Home Decor Market Place, Hotrod & Kustom "Only" Auction, Angel Hair City (hangout for kool kats & kittens), Two stage's of live Rock & Roll, and Rock-a-Billy hot licks, Thur. Eve. Spectacular Cruise on Santa Fe Ave., Sat. Night Concert at the million dollar Stiefel Theatre, and we can't leave out chowin' down a slider at the world famous Cozy Inn Burger...yum,...yum. 
Just some of the reason's why the Leadsled Spectacular is recognized as 
"The World's Oldest & Most Established Traditional Kustom Car & Hotrodding Event."
Show Special! Join the KKOA (or renew membership) for one year, enter the show, and receive a subscription to the 32 page, full color, glossy
KKOA Trendsetter magazine

For lodging info. go to www.VisitSalina.org, or call the 
KKOA @ (417) 847-2940, email: kkemps09@centurytel.net
Thanks for your valued entry support of this event, the world of hotrodding, and the KKOA!
 
SELECT YOU ENTRY FEE PACKAGE BELOW ON THE ENTRY FORM
FILL IN ALL INFORMATION, AND HIT SUBMIT
If entering 7 days before show dates,
The Fee Is 5.00 additional fee now, or at the show.